Nametags
As part of the rebranding rollout, one branded name tag has been ordered for full and part-time faculty and staff members and adjunct faculty. The order was managed by each department/college's respective executive assistant, who will be contacted to coordinate pickup once the nametags are received.
If you have specific questions regarding this, please contact your area's administrative professional or Cathy Brown, executive assistant to the associate vice chancellor of university communications.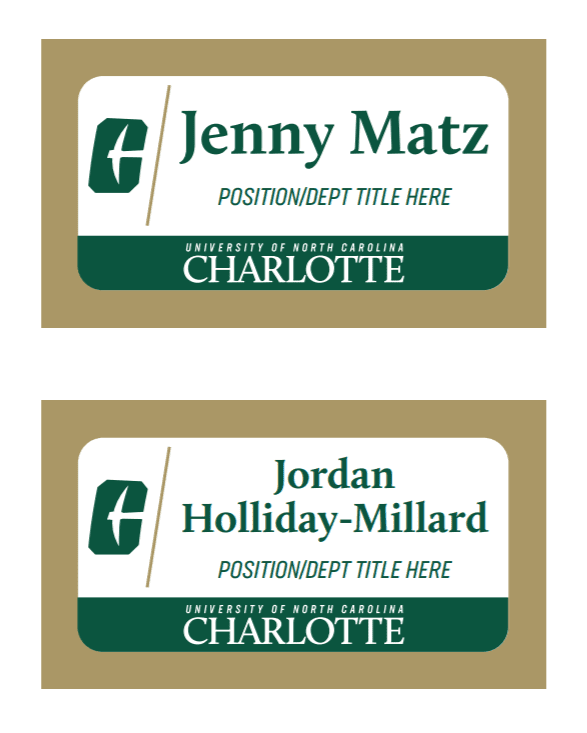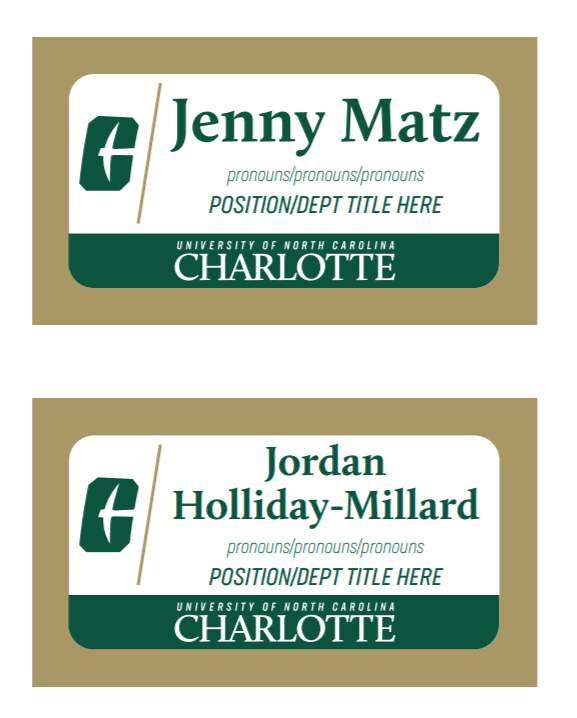 How to order nametags
The person ordering will need to sign in to their existing account first, (or set up an account), by clicking "My Account" at the top of our website. They will then click the "Design Search" link on the left-hand side of the screen, then do a search for either of the search terms listed below. The search terms below will show up to the right of the associated image of the name tag.
Log into your existing account or create an account at nametagcountry.com.
Once you're logged in, click on "My Account" in the upper right.
Then click "Design Search" on the left hand side of the screen.
In the search bar, type in "2021 UNC Charlotte" — you should see 2 options.

The 2-line option is set up under "2021 UNC Charlotte – Name/Title".
The 3-line option is set up under "2021 UNC Charlotte – name/pronouns/title".

Click on the image of the name badge you would like to order.
Enter the total quantity of name badges and click the "Begin Order" button.
Select the size of name badge (it defaults to 1 ½" x 3").
Then select your options for fastener and storage pouch and click "next."
Choose "Use logo in design 1 selected"
Fill in Lines 1,2, or 3 with Name Badge information, then click "next."
Confirm your text then click "next."
Type any additional changes or comments & click "add to cart."
Click "checkout."
Choose your shipping address and shipping method.
Select payment method and submit your order.
Questions?
Contact NameTagCountry Customer Support at 800-206-4099 or info@nametagcountry.com.